"Whilst highlighting the positive advances obtained in the 20th century, such as the peaceful use of science to improve the quality of human life and the development of democracy and human rights, it is necessary to implement the entire range of educational measures with a view to preventing the repetition or denial of the devastating events having marked that century, namely the Holocaust, genocide and other crimes against humanity, ethnic cleansing, and large-scale breaches of human rights and of the fundamental values which the Council of Europe holds dear".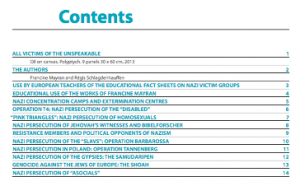 Those education factsheets on the different categories of Nazi victims are designed to help teachers prepare their lessons on the history and remebrance of the Holocaust. Each sheet gives an overview of the Nazi persecution of a specific victim group.
Teaching material is created and distributed with a view to making it easier for teachers to prepare lessons based on the "Day of Remembrance of the Holocaust and for the Prevention of Crimes against Humanity".